GETTING STARTED
Pay Us A Visit!
Once the club has a permanent location, the PPC allows an individual a maximum of 3 visits to the club, to see whether the club and/or the sport is right for you. During all three visits, you will be permitted to mix and mingle with the club members, while they carry out the courses of fire for the day. You will get to ask questions and get to see, up close, the varying equipment, which is used.
There is no charge for your visits to the club, however for a small fee of $20.00, you will be permitted to briefly shoot (20 rounds) the club pistol, under very close supervision, so you can see what it's like.
Basic Equipment
Should you wish to join and get involved, there are two items you will need to purchase, pretty much straight away: Ear Protection (Earmuffs) and Safety Glasses.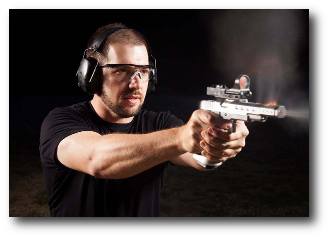 For ear protection, there are various options available from standard ear plugs to expensive electronic earmuffs. Whatever option you go for, they should ideally provide Class 5 protection. Class 4 is alright, but Class 5 is better.
Safety glasses should be of a suitable type for the sport you are participating in. If you wear prescription glasses, you will need to find an option than can take prescription lenses in some manner.
You do not have to spend a lot on these two items, however with most things, you do get what you pay for.
No one is permitted onto an active shooting range in New Zealand, without these two items.
NZ Firearms Licence
If you don't already have it, you should start the process of obtaining your standard NZ Firearms Licence and the firearms section of the NZ Police website is probably the best place to start. No - you do not need your NZ Firearms Licence on the day you join, however Pistol NZ requires your NZ Firearms Licence number to fully complete your membership application.
New Member Induction
Pistol shooting is a lot of fun, but at the end of the day you will be using a loaded firearm so safety is paramount. It is important that others on the range - and most importantly you - are confident that you have a sound understanding of what you are doing and how you should be doing things.

The PPC has a New Member Induction process for those just joining the club, which covers things like:
Understanding the parts and function of the semi-auto pistol.
Range commands that are used.
Firing exercises.
However, please be aware that passing the New Member Induction programme, does not guarantee that your membership application will be accepted by the PPC Committee.